"
Boring. Boring Only Lives Once. I didn't wanna BOLO...
"
— Grandma Zo explaining to Tess and Booker what she thought BOLO meant.
Zophia, better known as "Grandma Zo"  is Tess O'Malley's maternal grandmother. On her visit to 352 Hauser Avenue Tess and Booker attempt to try to slow her down after recovering from a fall.
She was portrayed by Mindy Sterling.
Personality
Prior to her fall, Zophia was a more reserved individual. Extremely affectionate and kind to Tess as she grew up, they favored simple activities such as cookie baking, playing cards, and solving puzzles. However, after her fall, Zophia dramatically changed her outlook, adopting a more feisty personality. The new Grandma Zo has been described as a "firecracker."
History
Appearances
Trivia
Zophia fell in her own home, walking from her yarn basket to her rocking chair.
She now owns a motorcycle.
Zo bought the kids a box of Nabisco Ginger Snaps.
She took a cruise to Pamplona, Spain to attend the running of the bulls (which occurs annually between July 6-14)  while telling her daughter's family that she went to Boca Raton, Florida. 
Tess states Grandma Zo's favorite activities were baking cookies, playing cards, doing puzzles, and quilting. 
Tess says that Zophia is now single.
She and Tess created a Cookie Time song.
It is possible Zophia's surname is "Kowalski" and Tess' Uncle Mike is her son.
Zophia's possible past as "Judge Foodie" is neither addressed or contradicted. As both Raven and Chelsea state their fondness for Tess's grandmother, it is possible that the three had already mutually settled any prior conflicts between them.
In a deleted scene, Grandma Zo punched a hole in a wall to intimidate the 352 Hauser Avenue landlord, in order to stop him from raising the rent on the tenants.
Mindy Sterling appeared as "Judge Foodie" in the That's So Raven episode "Food For Thought".
Mindy Sterling becomes the seventh performer to appear in both That's So Raven and Raven's Home following Raven Symoné, Anneliese van der Pol, Jonathan McDaniel, Brian George, Rondell Sheridan, and Staci Lynn Fletcher.
Additionally, Mindy Sterling has appeared in such Disney Channels shows as Even Stevens, The Suite Life of Zack & Cody, and a recurring role as "Principal Susan Skidmore" on A.N.T. Farm, and has done voices for Disney cartoons Kick Buttowski: Suburban Daredevil, American Dragon: Jake Long and The Replacements. She also appeared in the Nickelodeon show iCarly as "Miss Francine Briggs."
The Cookie Time Song (by Grandma Zo and Tess)
When the big hand is on the cookie jar,
And the little hand is on the tummy,
It's time to make and eat something,
That's yummy, yummy, yummy, yummy.
Cookie time!
Deleted Scene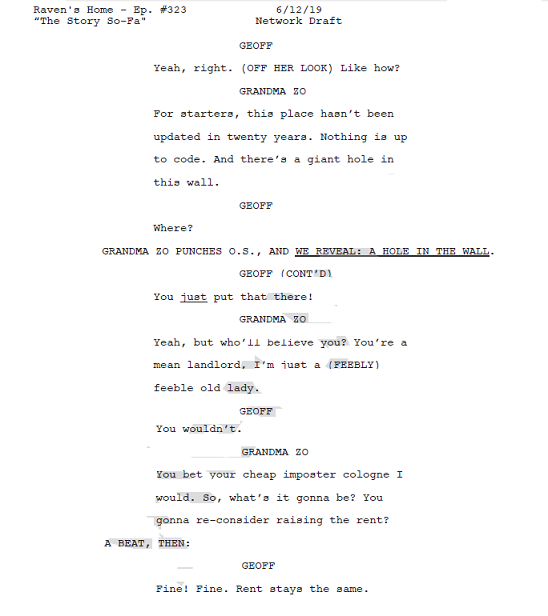 Gallery
| | |
| --- | --- |
| | The image gallery for Grandma Zo may be viewed here. |
Community content is available under
CC-BY-SA
unless otherwise noted.