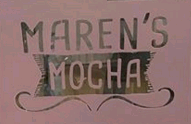 Maren's Mocha
is a street level restaurant cafe on the same block as
352 Hauser Avenue
. It becomes the favorite local hangout for the Baxters and their friends.
History
The Baxter  twins decide to visit the new cafe that has just opened in front of their building.  Taken in by the British atmosphere Nia perceives upon entering the establishment, she orders a cup of Earl Grey tea and an apple juice with some "biscuits" for herself and Booker, in a British accent.  She is overheard by Timothée, an exchange student from France, who incorrectly assumes Nia is from England.  Immediately drawn to the newcomer, Nia impulsively decides to feign being Booker's British cousin, freshly arrived from London.  
Two days later, after Nia's ruse has been uncovered, Timothée, discovers Nia there, and the pair reconcile, making plans to spend the rest of their limited time together, to get to know their genuine selves.
Chelsea re-enters the dating world and has several dates there:
 A waiter from Captain Flounder's restaurant, that arrived still dressed as a Pirate, complete with an eye patch, wooden peg leg, and live parrot on his shoulder, which pecked at Chelsea's meal.  (Unseen)
Alleged NASA Astronaut
Alleged Secret Agent
A  "magical" encounter with Killian the Illusionist, who turned her food into a rabbit and back again.
Nia and Levi stumble across their missing couch at Maren's Mocha.  They scheme to retrieve the couch but fail.  Nia calls in their moms, Raven and Chelsea to help. 
Appearances
Known Patrons
Trivia
Namesake owner and proprietor, Maren, appears in The Story So-Fa.
The street number is 914.
Tess recommends the Bear Claws.
Chelsea had at least four dates there.
Timothée and Nia frequented the cafe for the three weeks he spent in Chicago.
The name of the place has yet to be stated on screen, and can only be detected if one can discern the reverse image of the logo sign in the window. 
Community content is available under
CC-BY-SA
unless otherwise noted.