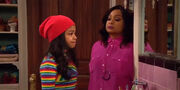 Nia and Raven is the Mother-Daughter relationship in Raven's Home. Raven is always supportive of Nia and gives her advice on some topics. They are very close and are the two females in the Baxter-Carter bunch.
Raven had a vision of Nia complaining that she doesn't get much attention
Raven started giving Nia too much attention making her uncomfortable.
In the end Raven told Nia she loves her and Booker equally
[Big Trouble in Little Apartment ]]
Nia tried to tell Raven how she feels about her living situation
Nia didn't want to upset Raven by telling her bad news
Raven started to play with Nia's bras much to her annoyance and embarrassment
Raven went to find Nia after she snuck out to see Devon
Raven looked sad when Nia wanted to move in with Devon
Raven was worried when Nia came home to say her bad news because she didn't want to loose her baby girl
They made things right in the apartment so Nia could stay.
Nia and Booker gave Raven the money from their yard sale
At the end Raven showed a picture of the twins in a bath
Raven told Nia not to use her makeup
Nia took it anyway and wore it to school
When Raven came Home and she saw Nia in makeup she was furios
Raven asked Nia what got into her, Nia liked getting older attention
Raven said it a mother's job to remind her daughter she's beautiful
Nia said she would remind her too, and they hugged
Raven grounded Nia for 3 weeks (she was gonna say 2 but since Nia suggested it.
Raven basically threatened Nia to get in the car
Nia tried to talk to Raven about her dancing problems
Nia sarcastically said Raven's weird dancing helped her
At the dance Nia old Raven her cupcakes were delicious
Nia told Raven she didn't want to embarrass herself by dancing
Raven said the worst thing that could happen was Nia not having fun at her dance
They danced together and Nia was able to get Raven, Chelsea, Booker, Levi, and Tess to dance too
The Falcon and The Raven - Part Two
Raven started to not pay attention to Nia because of her not having visions
Nia started to feel left out of her mother and brother
Nia faked a vision to get attention from her mom
Raven told Nia that although her and Booker are the "Psychic Duo", her, Booker and Nia are "Team Baxter
That made Nia happy
Community content is available under
CC-BY-SA
unless otherwise noted.