This wiki has a set of image policies that must be followed all around the Raven's Home Wiki for all the users.
Image Policies
The images can not contain any inappropriate content or material, they should be all related to the show.
You can not overwrite an image (upload over). That could mess up with the pages that show that image, so before you want to do that, please consult an admin or the uploader of the image.
Pictures should be named something that corresponds with the content. You can't just type random letters and numbers, or leave the filename as it was when you saved it. The title should correspond with the image.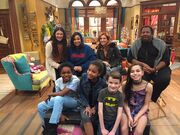 Example: This is a still from the cast of Raven's Home, and in this picture we can see the cast smiling to the camera, and the filename is: "RH_Live_Taping". It will be better if you name pictures like this, because, this way it will be easier for users to find the pictures they are looking for.

Please do not duplicate files, this means you can't upload a picture that is already on the wiki, this is considered duplication and it's not allowed.
We expect you to follow these rules, if not, we will have to take some severe actions. In case you have any questions or need some help with these policies, feel free to contact an Admin.
Warnings for Bureacrats/Admins
If a user does not comply with the rules, they will receive one of these:
Code: Images
Images
The image or images that you have added do not comply with our image guidelines. Please review the Image Policy.