Season 1 of Raven's Home was announced on October 27, 2016. The 13 episode season premiered on July 21, 2017, and ended on October 20, 2017.[1]
Synopsis
"Raven's Home" picks up with longtime best friends Raven and Chelsea, who are now each divorced with kids of their own, raising their children – Raven's 11-year-old twins Booker and Nia, and Chelsea's 9-year-old son Levi – under one roof, in a chaotic but fun household that often includes the twin's best friend and neighbor Tess. Unbeknownst to her kids, Raven still catches glimpses of the future, and unbeknownst to her, Booker has just learned he has these same abilities. Hilarity ensues as Raven and Booker's visions collide, but no matter the situation, they figure everything out together as one big happy family. [2]
Cast
Main Cast
Recurring Cast
Guest Cast
Season One Slideshow (2017)
Episodes
Main article: Episode Guide
Confirmed dates
These are episodes that have confirmed titles and dates.
Note: Please only add production codes along side an episode, and when you know it is the right one. Sometimes the production codes may not be in a natural numbered order, so it's best not to add random production codes when you don't know the episode. Thank you!
#
Ep
Title
Writer(s)
Director
Prod. Code
Air Date
Viewers (millions)
1
1
"Baxter's Back!"
Jed Elinoff & Scott Thomas
Eric Dean Seaton
101
July 21, 2017
3.50

Raven is now a divorced mother with children of her own and is living in Chicago. Chelsea is also divorced. She arrives with her son Levi and moves in with the Baxter's. Raven's son has also inherited his mother's psychic abilities and now, Raven and Chelsea's family will never be the same again.

2
2
"Big Trouble in Little Apartment"
Jed Elinoff & Scott Thomas
Eric Dean Seaton
103
July 28, 2017
1.66

Unbeknownst to Raven, Nia is starting to feel like their apartment isn't big enough for everyone and turns to her dad Devon for help.

3
3
"The Baxters Get Bounced"
Meg DeLoatch
Eric Dean Seaton
102
August 4, 2017
1.20

When the landlord raises Raven's rent after learning Chelsea and Levi have moved in, Nia and Booker try to hold a yard sale to help their mom.

4
4
"The Bearer of Dad News"
Jim Martin
Victor Gonzalez
104
August 11, 2017
1.35

When Raven has a vision of Booker and Nia being upset over their dad's move, she goes overboard trying to do all of the fun activities Devon normally did with the kids.

5
5
"You're Gonna Get It"
Anthony C. Hill
Victor Gonzalez
105
August 18, 2017
1.44

When Nia sneaks to school wearing makeup against Raven's wishes, she draws the attention of the 8th grade girls who invite her to hang out.

6
6
"Adventures in Mommy-Sitting"
Jim Martin
Shannon Flynn
107
August 25, 2017
1.24

Booker, Nia, and Levi convince Raven and Chelsea they are responsible enough to watch themselves while the moms celebrate a "moms' night out."

7
7
"Dancing Tween"
Sassi Darling
Shannon Flynn
108
September 8, 2017
1.37

While Booker and Tess team up to plan their 6th grade dance, Nia worries her dancing skills aren't good enough for the big event. Meanwhile, Raven starts to question if she's being a good mom and goes overboard trying to volunteer for the kids' school.

8
8
"Vending the Rules"
Molly Haldeman & Camilla Rubis
Bob Koherr
109
September 15, 2017
1.47

When Booker and Levi want expensive virtual reality goggles, the boys come up with a plan to make money by selling snacks at school.

9
9
"In-Vision of Privacy"
Danielle Calvert
Bob Koherr
111
September 22, 2017
1.26

When Booker has a vision of Tess getting her heart broken, he and Levi try to prevent it from happening.

10
10
"Fears of a Clown"
Rick Williams
Victor Gonzalez
106
September 29, 2017
1.21

Booker and Levi battle with Nia and Tess for the attention of a cool new kid in the building.

11
11
"The Baxtercism of Levi Grayson"
Charity L. Miller & Eric Owusu
Bob Koherr
110
October 6, 2017
1.28

Booker and Levi try to prank a classmate into thinking their apartment building is haunted. Meanwhile, Nia gets chickenpox and Tess comes up with a plan to make sure her BFF doesn't miss out on Halloween.

12
12
"Dream Moms"
Jed Elinoff & Scott Thomas
Robbie Countryman
113
October 13, 2017
1.18

When Booker and Levi get into some trouble backstage at a concert, Raven and Chelsea try to seize the moment to perform with their all-time favorite group La Dee Da.

13
13
"Vest in Show"
Rick Williams
Robbie Countryman
112
October 20, 2017
1.27

When Booker has a vision of Raven getting fired from her job during Doggy Fashion Week, he tries to help his mom with her designs.
Trivia
Nine episodes were filmed before a live audience this season.
This season premiered right after the premiere of the Disney Channel Original Movie, Descendants 2.
This is the first season of the That's So Raven sequel.
Navia Robinson was absent in In-Vision of Privacy and Vest in Show.
Sky Katz was absent in The Bearer of Dad News.
The stairway set utilizes the same filming techniques as The Big Bang Theory, creating the illusion of multiple floors by simply changing the numbers on the apartment doors.
Raven's Home is the 78th Disney Channel Original Series, which followed Andi Mack (77).
Indirect references were made of Raven's parents, Victor and Tanya Baxter, but no mention was made of either her brother, Cory Baxter or best male friend, Eddie Thomas whatsoever.
Collins and Devan Key made special "Fri-Yay" videos with the younger Raven's Home cast.
Raven's Home is the second That's So Raven spinoff. The first was Cory In The House, starring Kyle Massey as Raven's brother, Cory.
This is the shortest season of the series.
Raven's Home is the fourth spinoff of a Disney Channel Original Series, after Cory In the House, The Suite Life on Deck, and BUNK'D.

Even though So Random! is part of the Sonny With a Chance Franchise, it counts as a continuation of Sonny With a Chance and is an independent series rather than a spinoff.
Take Two with Phineas and Ferb, Dogs Rule.... Cats, Not So Much, and Descendants: Wicked World were mini spinoffs.

The highest viewership rating in this season was 3.50 million viewers and it was Baxter's Back!.
Videos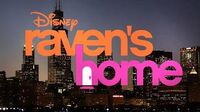 Gallery
| | |
| --- | --- |
| | The image gallery for Season 1 may be viewed here. |
References